A region of central-south Genertela
Mythology
Edit
Imperial Age
Edit
The coast became the Archduchy of Slontos but God Learner control over the area was threatened by the EWF in Kerofinela.
Several massive but inconclusive battles were fought before both sides were destroyed through their own flaws.
Modern Age
Edit
This south central region contains the lands of:
Countries
Edit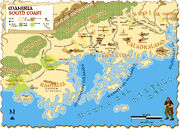 Ad blocker interference detected!
Wikia is a free-to-use site that makes money from advertising. We have a modified experience for viewers using ad blockers

Wikia is not accessible if you've made further modifications. Remove the custom ad blocker rule(s) and the page will load as expected.