Description
Edit
Esrolia is a fertile land, sacred to Ernalda and the goddess associated with her pantheon.
It is ruled by women.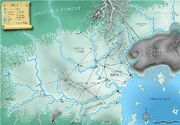 Government
Edit
Esrolia has two parallel governments
Holy Country
Edit
A Governor administers Esrolia for the Holy Country
Beneath him are four deputies, one for the provinces of Longsi Land, South Esrolia, North Esrolia and the North March.
Since Belintar's disappearance, the Holy Country Administration is rudderless.
Orlanth is feared as an evil God yet his existence is unavoidable.
Other gods are known in the Earth Tribe
Mythology
Edit
Imperial Age
Edit
Modern Age
Edit